This year, for my birthday, my husband and I did a little shopping in DTLA. Specifically at Michael Levine Loft. There are boxes full of fabric, no yardage listed, no designer or manufacturer listed on most pieces. Just boxes full of wonderful fabric! And it's $2.50 per pound, amazing! Let's just say that I came home with quite a lot of fabric.
I found this beautiful orange lace and I knew that I needed to make a dress. I saw a white lace strapless dress at Target and decided that was the look I wanted to go for. I originally cut a medium for the dress but it ended up being too big so I would say by the time I took it in, it ended up being a size small.
Fabric:
Orange lace for main fabric, red batiste for underlining.
Pattern:
Mimi maxi dress by Seamingly Smitten Patterns
Pattern Modifications:
1. Added in seam pockets because I love pockets! 2. Instead of ankle length with side slit, I cut it shorter and had the hem hit just below the knee. 3. I also cut the width smaller for the skirt so that I didn't have to gather as much material. 4. And of course, I had to add a belt! One from the same orange lace and a brown one (which I took from an existing dress that didn't fit anymore).
These adorable
chain sandals
are my new favorite shoe. From Zara. So comfortable and perfect for summer!
I'm currently working on a pleated playsuit for Miette and I'm going to start on a button down shirt for my husband!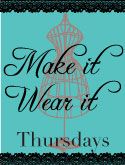 Have a great weekend!
April